It's storming and for the third night in a row, I am tired but I cannot fall asleep. Tired but Wired! Kevin and Ethan are in the garage trying to replace the alternator/er (whatever) in his 94 Nissan Altima. It died in the driveway a couple of weeks ago and it was the battery. It died at our post office this afternoon and now it's the alternator. Cars suck a little bit. They are great when they work though! We need this car to last us a little longer, so hopefully it will! Judging by the odd noise in the garage, I'm not so sure. I don't think it's going well!!
Abby had tumbling today and she did awesome. I think her coach would like to backhand her though. Abby is difficult sometimes. I love her, but I can tell her coach doesn't know what to think. Most of you have heard me talk about how she has some struggles with focusing and the like (no idea where it comes from). We will probably eventually maybe have to have her evaluated. I recently had read a study on kids with ADHD and fish oil. It basically said that in a trial of confirmed ADHD children, they were all severely lacking in DHA or omegas. After several months of being on fish oil supplements, more than 50% had seen amazing improvement in behavior, attention and restlessness. Sold. We went out and bought some fish oil caps for kids! I don't want to even say it, but it's been about three weeks and I am really starting to see improvement in Abby. She isn't as impulsive or obsessive as she was and she has been listening so so so much better. It's definately worth continuing!!
Ethan decided last week that he was super over having long hair. So off to get his hair cut we went!! He looks so much younger with it short!! We spent this past weekend in our home town celebrating my aunt and two uncles turning 60. The weather was gorgeous and we had a great time. My kids got to sit on grampa's new motorcycle and Ethan even got to go for a little ride. He was super excited! Here is the picture of all three of them on it...check out Ethan's new do!!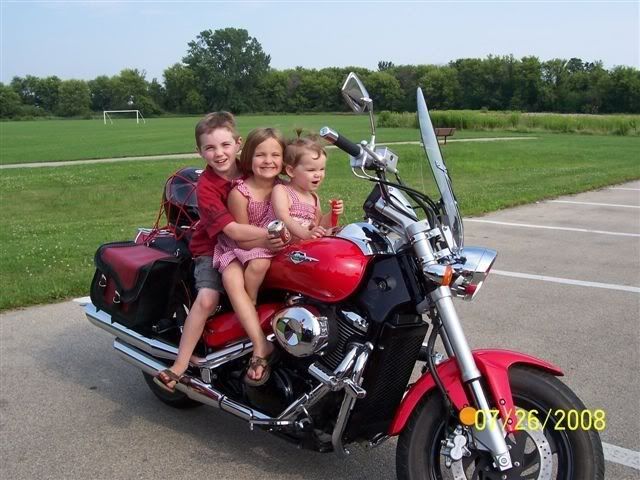 Olivia is pretty much hilarious all the time. She is talking so well and has such a funny little sense of humor. Her new favorite thing in the whole world is ketchup. She wants it on mostly everything and we have to calmly explain that ketchup doesn't go on cereal. To which she replies, "I need ketchup." ;) I HAD to take a picture of her after lunch the other day. It's all over her face and hands, but none on the white dress!! Score!!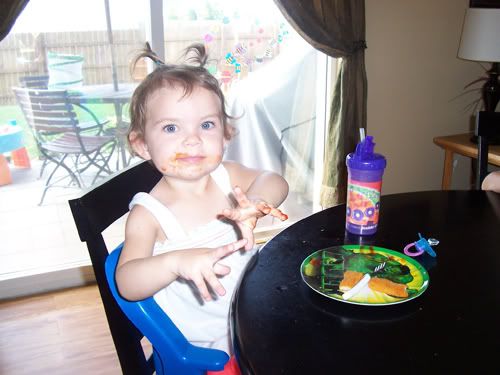 And we have also started flooring upstairs. The hallway is done and I think we're moving on to Abby's room this weekend. We're having to put new plywood subfloor down because the subfloor under the carpet was pressed particle board. Not good for peel and stick flooring. Even with having to put the plywood down, it's still cheaper than any other flooring we could buy and it's much easier than the downstairs was! Here are a couple of pictures...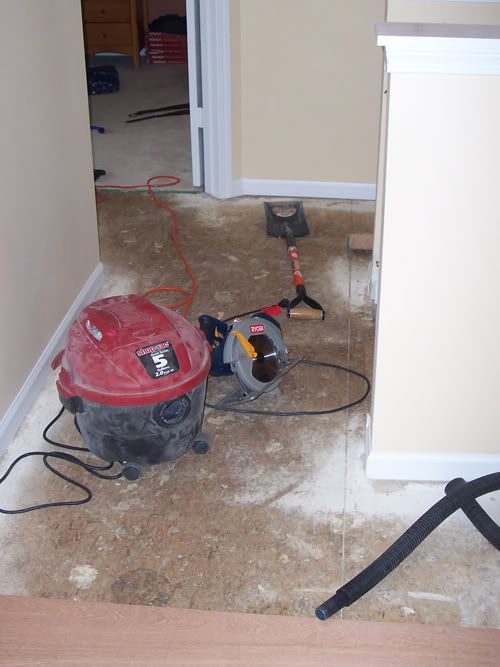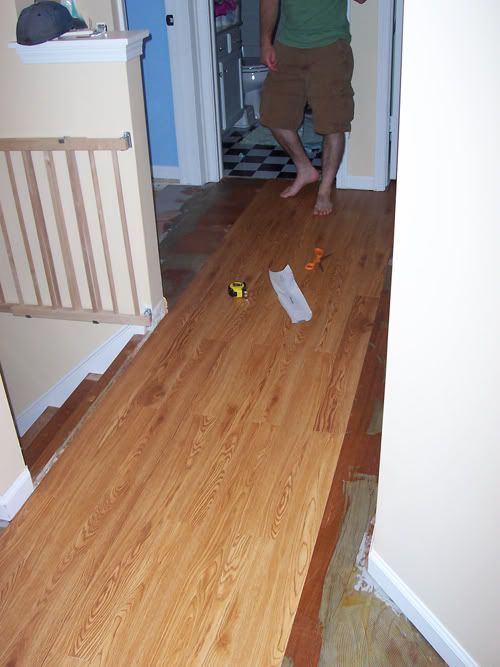 Nice, huh?? Well, I think this concludes my random post for the evening. Kevin and Ethan have successfully replaced the alternator and all seems well with that for now. I am off to bed and hopefully sleep!! Until next time!!