New Years. Ugh. Generally I'm not a huge fan of this holiday. As I've gotten on in years, I'd rather stay in than go out. Too many drunk people, too much public making out, and too much nostalgia. And don't get me started on resolutions. I'm all for making good goals, but don't wait until New Years! New Years just brings out my anxiety all around..... so I like to stay in, wear pajamas, make my own drinks and eat tapas style - all appetizers. Like this right here..... nice, huh???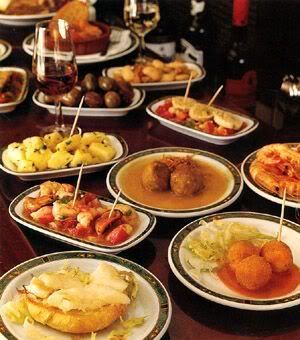 Instead of getting super sappy and sentimental on you, I threw together a wonderful (or at least I think it is!) collection of my favorite New Years songs. Now I don't like to brag, but I have to say you'll be hard pressed to find a better playlist than this one right here. I scoured the net for new years type songs and most of them were really lame a$$. Mine are not. Some of my choices are obvious and others aren't until you listen to them. Here we go!!
Auld Lang Syne - Barenaked Ladies. Simple reason - best version of the song out there! This is THE poster song for New Years.
Let's Start The New Year Right - Frank Sinatra (or just Frank is really all you have to say). I love me some Frank!!! Very obvious song choice, but couldn't leave it out!
This Will Be My Year - Semisonic. This is one of my favorite bands from the 90s. I believe they only put out the one album in 98 or 99, but I still listen to the crap out of it. The whole thing is great, but this is a wonderful song that is full of optimism and hope for the new year.
Next Year - Foo Fighters. Such a beautiful, chill song... say goodbye to the old year!!
Tonight, tonight - Smashing Pumpkins. Not an obvious choice, but here is why I picked it: I feel like the whole song is about making the most of right now. Not waiting until tomorrow! Tonight, tonight!!!!
Long December - Counting Crows. This song is a pretty big downer, but I love it's sincerity. We've all had years so bad we were ready for them to be over just so we could try again.
Better Days - Goo Goo Dolls. I love this band. They are soooooo bubble-gum pop, but I can't help it. This was a difficult year for a lot of people in our nation. Our country has fallen on pretty hard times and we could all use little hope right now.
New Years Day - U2. Favorite. Band. EVER. Nuf said!!!
New Year - Death Cab For Cutie. Love this one for its simple truth - New Years can be quite a letdown for some people.
Brand New Day - Joshua Radin. Love this guy! Talks about putting the past behind you and feeling optimistic about the future.
The Resolution - Jack's Mannequin. The title is obvious, but there's a lot behind the meaning of this one - knowing you don't have all the answers and being totally okay with that.
Love and Memories - OAR. "Drown in love and memories." It's hard not to get wrapped up in all the memories of the year, esp on New Years.
What Are You Doing New Year's Eve - Harry Connick Jr. I LOVE Harry. A nice version of an old classic.
Put It Behind You - Keane. Time goes by too fast to hold on to the bad stuff. All the things you would have done differently, all the stuff you screwed up. Put it behind you because it's too much!!! I love Keane!
Time Won't Let Me Go - The Bravery. Time doesn't allow us to go back and fix things. Hindsight is 20/20 and these lyrics sing it right - you can't keep wanting/wishing for things that will never be.
It's The End Of The World - REM. Another classic - technically speaking, it is the end of the world as we know it for so many reasons! 2008 is over, 2009 has begun. We have a new president and things can only go up from here in my opinion. Maybe that's a naive way to look at things, but I'm a glass half full kind of girl. Most of the time. Anyways, the world as we know it in 2008 is over!
Next Year, Baby - Jamie Cullum. How could I not end this with Jamie??? This is my favorite song about New Years. The whole thing is a resolution he's making about all the things he promises to do in the coming year. Even though he knows resolutions are crap!!! I do like that part about only drinking the finest wine!!!
So while New Year's Eve might not be my most favorite holiday, I am looking forward to it. This year as the clock strikes midnight, I will find myself filled with hope for a better tomorrow. I hope you've enjoyed my New Years playlist AND my final blog EVER...... for 2008!!! Thank you to all who read this odd little blog and look forward to my many ramblings. I leave you with an old, Irish toast to ring in the new year....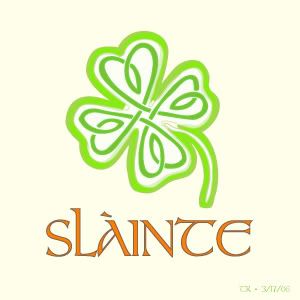 "In this New Year, may your hands always be stretched out in friendship, never in want. Slainte. "