If I've said it once, I've said it a thousand times: I love fall!!! Don't get me wrong, I am sad to see summer and the warm weather go. But there's something about cute sweaters, football and comfort food that makes me so happy. Food in general makes me happy. I love to eat probably more than anyone should. I look forward to my meals. As soon as I'm done eating one meal, I am already thinking about what to have for the next one!!! I am not ashamed to say it. I love food.
Comfort food is high on the list, although it's not something we have as often as I would like for obvious reasons. It tastes good, but it's not always good for you! My family's all time favorite meal is a simple one of creamed chicken served over biscuits. It is the definition of comfort food - warm and filling, inexpensive and uncomplicated, and easy to prepare. My mom used to make it for us when we were little and it never disappointed. It was one of the first things I made for Kevin when we were first married! I happened upon a cute little blog called The Big Red Kitchen one day and was so happy to find a good recipe for the beloved creamed chicken. It is probably the best blog about food EVER. She takes the most beautiful pictures of the food!!! Of course you can't just look at the pictures. You have to make the food. And eat it!!!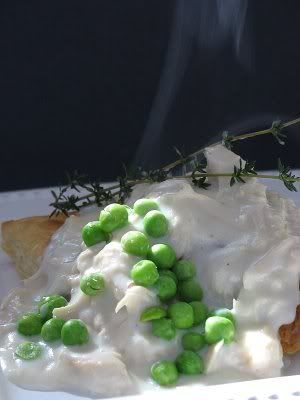 What did I tell you about the pictures??? Thanks to 'Big Red Kitchen' blog for allowing me to use your delicious photo!!!!
Anyways, here is her amazing recipe for Creamed Chicken which my family and I enjoy on a very regular basis during cold months. Hopefully it will make its way to your table for you and yours to enjoy!!!
Creamed Chicken
1 stick unsalted butter
1/2 cup flour
4 cups milk
4 cups cooked, shredded chicken- about 3-4 chicken breast halves
salt and pepper to taste
In a large pot over medium high heat, melt butter. To melted butter, whisk in flour until smooth. Slowly whisk in milk. Turn heat down to medium and cook until thickened. Add chicken then salt and pepper to taste. Serve over hot buttermilk biscuits with steamed peas and enjoy!!