This week's new music isn't really all that new. The band 'Jump Little Children' has been around awhile. Though I've just recently stumbled onto them, I can't seem to stop listening. I originally bought their album 'Between the Dim and the Dark' because an article I'd read compared them to Guster and Radiohead. I'm ashamed to admit I really only bought it to hold me over until Guster's new album comes out - which at this point I have no idea when that will be. While no one will ever replace Guster in my heart, this album is holding its own in my rotation and I think if you like Guster or Switchfoot or Travis or Radiohead you should really give these guys a listen.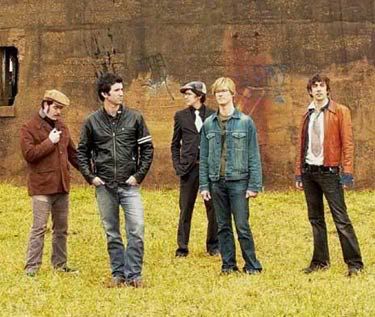 The founding band members all met up while attending a school for the performing arts in the Carolinas - they were studying classical music and decided to forget it and become a rock band instead. Good idea!!!! Check them out!!!!
'The Dim and the Dark'
'Hold You Down'
'Rains In Asia'
'Mexico'
'Requiem'
'Young America'
Jump has two other albums that came out before Dim and the Dark called 'Vertigo' and 'Magazine' which I've only briefly listened to so far.... so I can't fully review them. BUT here are a couple of songs from each album just so you can hear how different they are from Dim and the Dark!!!
'Cathedrals' from the album 'Magazine'
'Angeldust' from the 'Vertigo' album - this album *REALLY* sounds like Radiohead
Sadly, I don't think they're together as a band anymore which is a huge bummer. But if you're in need of some new/old music, Jump Little Children come highly recommended. Happy listening!!!!