Well, I guess it's more than a sneak peak, but I wanted you to see how it's coming along since my last post. Our old bedroom looked like this.....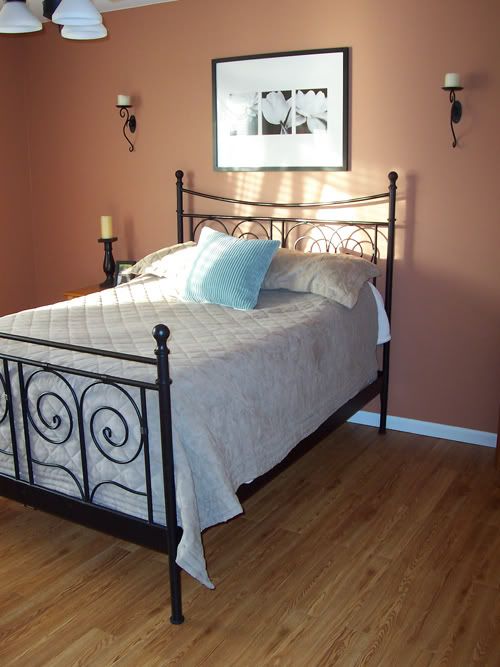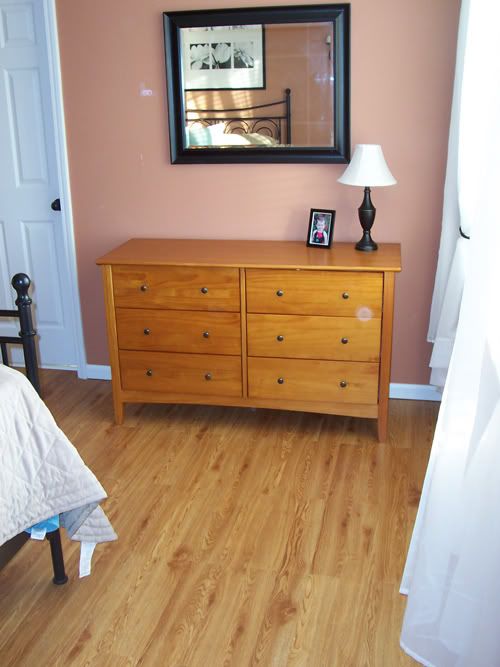 We sold the furniture and stuff on craigslist and used the money to buy this new Edlund bed from Ikea and a new memory foam mattress from Overstock. We'd been sleeping in a full bed and thought it was time to upgrade to a queen!! Here's what it looks like now!!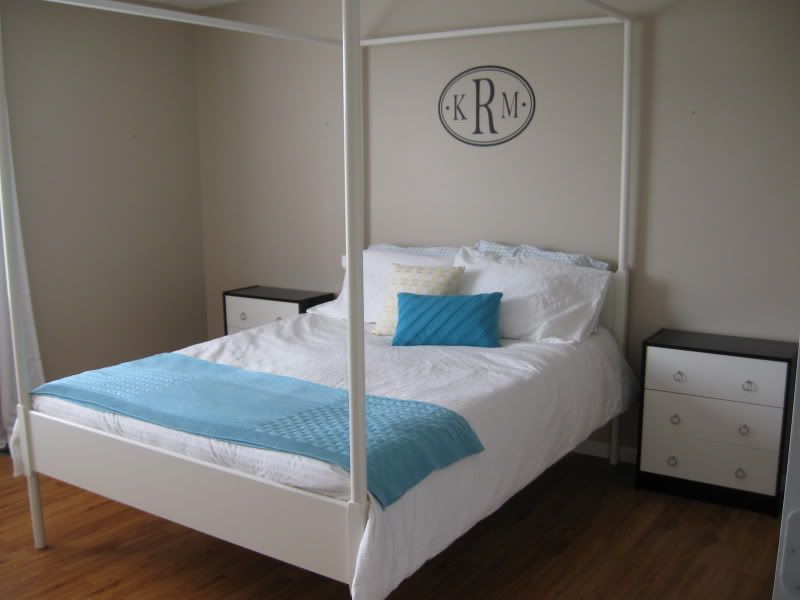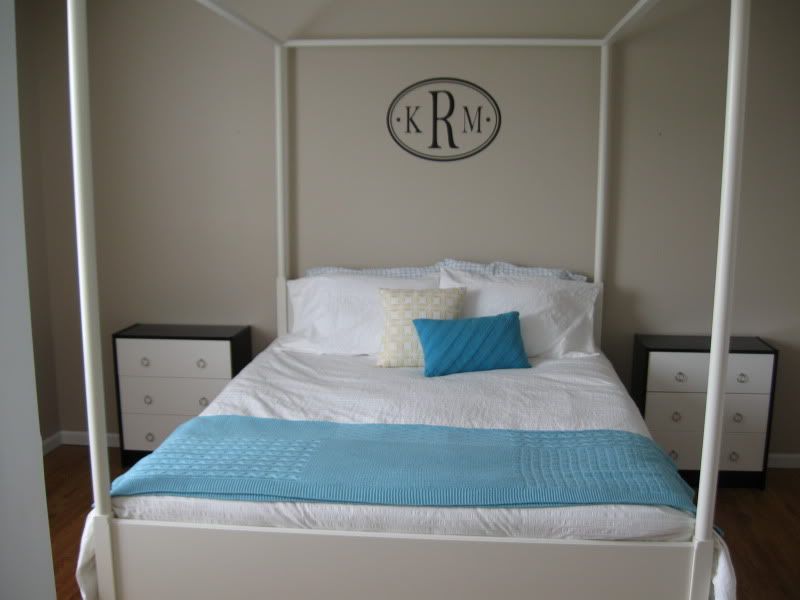 The duvet cover is from Ikea as are the bed and nightstands. The pillows and throw blanket are from Meijer!! I am in love with the new Katie Brown home decor line they are carrying in stores. Beautiful colors and great prices!!! I'm going with a tiffany blue, yellow and beigey/gray (greige?) color scheme in the room. Also keeping my eye out for a sweet sunburst mirror for over the bed. Here is what the rest of the room is looking like...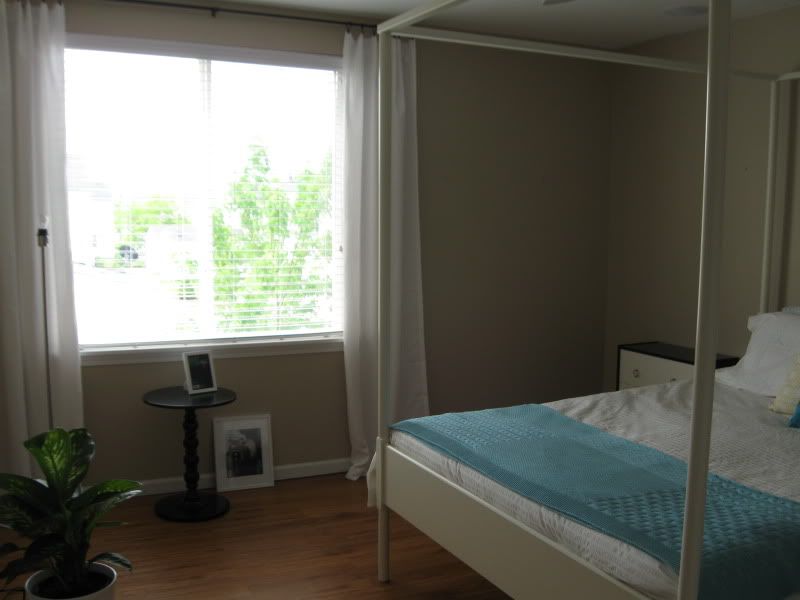 I am planning on some type of gallery wall of frames for this little space of wall next to the HUGE window. Thanks to Young House Love and House Tweaking blogs for showing me how to hang curtains high and wide. It makes such a big difference in how your windows look!!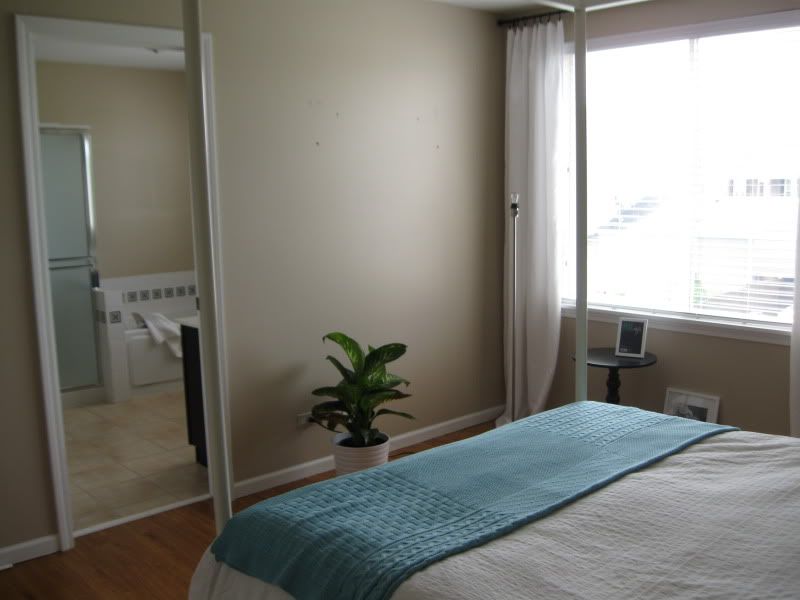 Got this little round table for a steal of a deal at my local Target store. I have been searching craigslist and thrift stores for the perfect chair to go next to it!! Possibly something armless or maybe even rattan/wicker?? Or wait..... leather????? Who knows!!!! As far as what's going on the wall above, I'm leaning towards some type of canvas painting - probably from Homegoods or Etsy. Oh, and I'm trying my hand at customizing a lamp shade with some cool yellow chevron fabric I found. Which is why there's no shade on the floor lamp yet!!!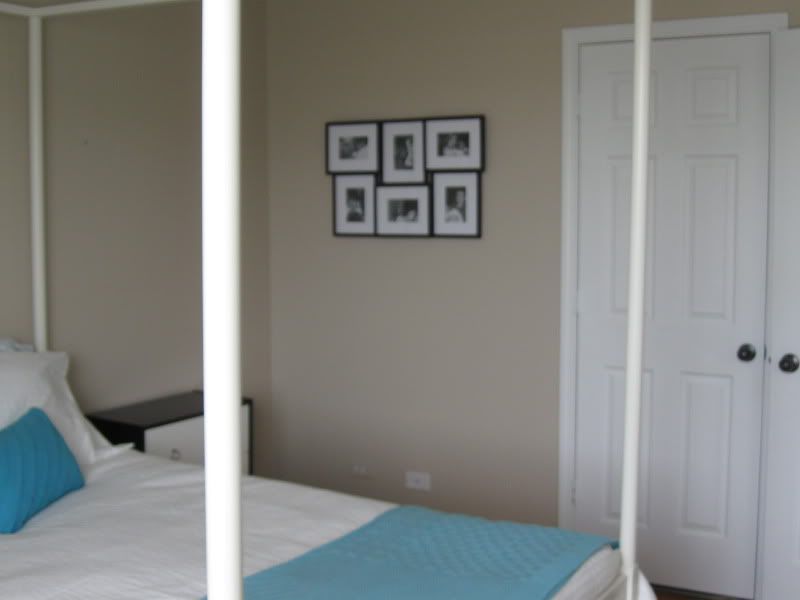 We will also be tackling our walk in closet at some point. Instead of spending buttloads of cash on built ins from California Closets or even Home Depot, we're going to try making our own. We might end up opening this wall up somehow - either by doing double doors with mirrors on them or maybe even some sort of curtained "dressing room" situation. I'm not sure yet. We have quite an issue with doors in our room. See below photo....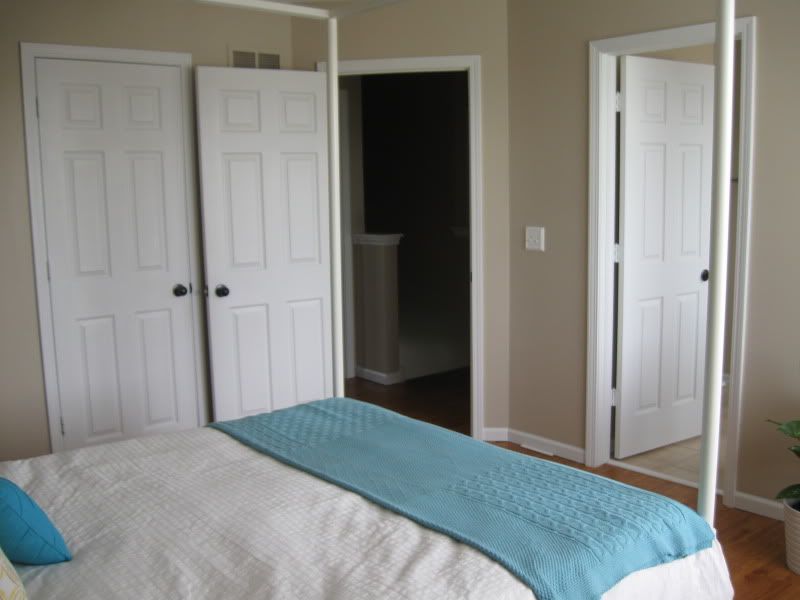 I have never liked how all of these doors look. The door into our room, the closet door and then the door into the bathroom are all right smack next to each other. Part of me wants to do away completely with the bathroom door, but then the other part of me thinks it would be a mistake. Esp when Kevin gets up at 5:00 am to shower and wakes me up because I've removed the bathroom door in the name of good design. Who knows what we'll end up doing. It's a dilema. A door dilema.
And now for my very cool, very affordable furniture project!!! We got rid of all of our dressers because I felt like they were really junking up the room. Plus, once we pimp our closet out we won't need them anyways. But I think every bedroom needs nightstands with cool lamps on them. I scoured thrift stores and craigslist for the perfect nightstand, but nothing really jumped out at me. Then I found this amazing Ikea dresser makeover at Aubrey and Lindsay's blog: http://aubreyandlindsay.blogspot.com/2009/09/side-table-project.html
Enter Ikea's $29 unfinished "Rast" dresser. Given it's small size, I wouldn't really call it a dresser. But it makes a perfect nightstand!!! After finding some affordable silver drawer pulls on ebay, I bought some black/brown wood stain and stained the outside and top of the dresser. It took about three coats and a quick sanding with steel wool in between each coat. Then I bought Glidden's "Parchment White" paint because the peeps over at Young House Love blog said it matched the Ikea white perfectly. And ta-da!!! My little Ikea dressers went from this: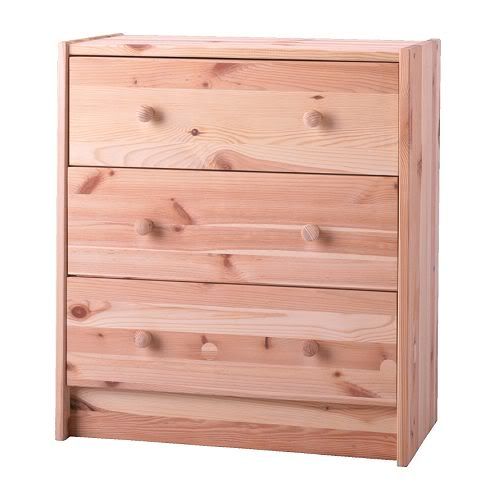 To this!!!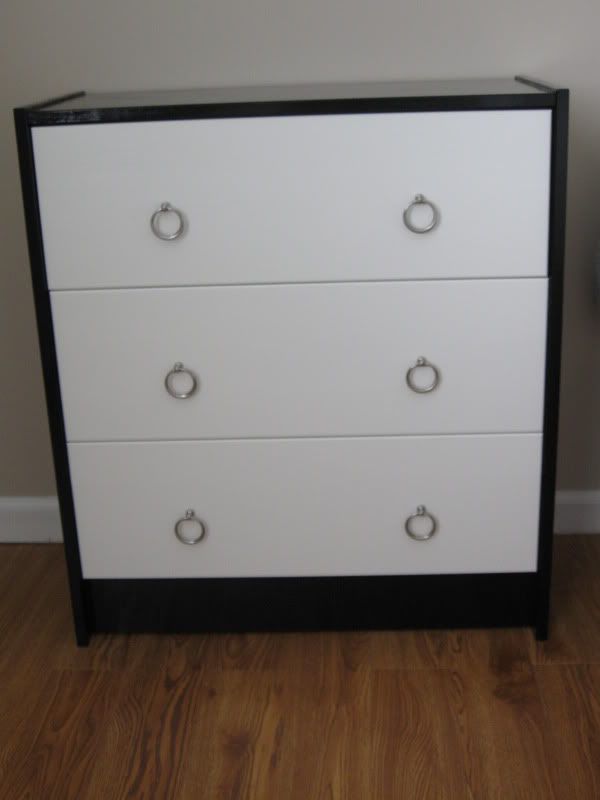 I love a good makeover!!! Once I find some cool lamps to paint yellow and some frames and other little accessories, the nightstands will be complete! Now for one last photo: the hallway. I had this mirror that was originally in my bedroom that I didn't know what to do with. So, I hung it on the awkward wall in my hallway right at the top of the stairs. I feel like it opens the space up so much more!!!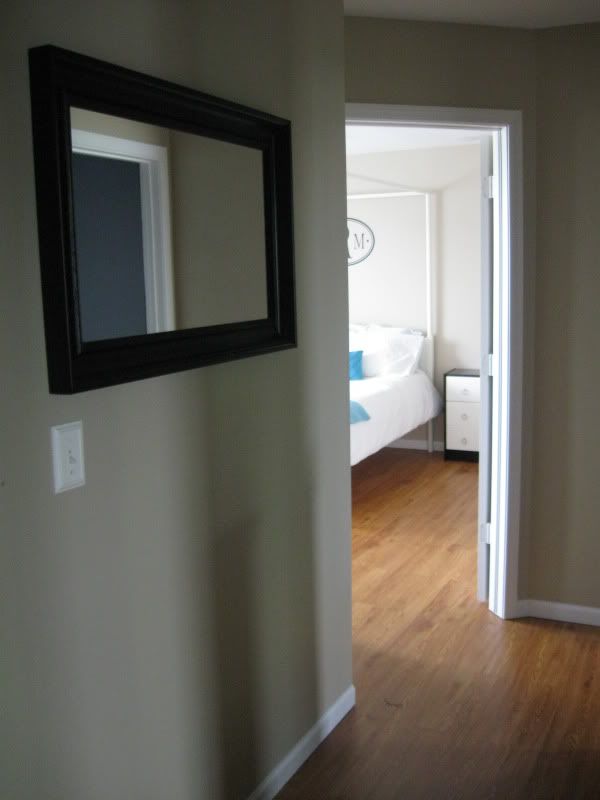 That's about it for now, but you know I'll be sure to post more photos of the progress as it happens.
On a more serious note, we had quite a scare today. My youngest daughter Lulu had her first seizure in almost three years, so we spent the afternoon in the hospital keeping an eye on her. She seems to be doing much better now, but of course we are very upset. We had thought she'd outgrown these episodes, but apparently not. These next few weeks will undoubtedly bring a lot of testing and questions to which we may or may not get answers to. What we do know is that Lulu is very healthy otherwise. The seizures she's had in the past have not in any way affected her brain, her body or her spirit. She is one of the toughest, bravest people I know and she's only four. Any prayers you could offer up on her behalf would be much appreciated!!