Two things that go together better than anything else I can think of: wine and chocolate. I got this recipe off of Martha Stewart's site. Most of Martha's recipes are really involved, but I was pleasantly surprised at how truly easy this cake recipe was. And I got to use my bundt pan so yay!!! It's a pretty rich cake, but most of the richness comes from the lovely merlot glaze......
Chocolate Wine Cake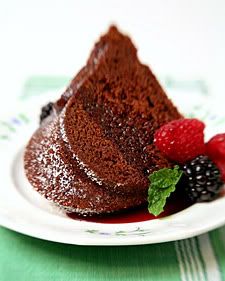 FOR THE CAKE
Nonstick vegetable cooking spray
4 ounces bittersweet chocolate
1 cup red wine, such as cabernet sauvignon or merlot
1/3 cup whole milk
1 3/4 cups granulated sugar
2/3 cup (10 2/3 tablespoons) unsalted butter, at room temperature
3 large eggs, slightly beaten
2 1/4 cups all-purpose flour
1 box (.3 ounce) sugar-free black cherry gelatin
1/4 cup unsweetened cocoa powder
2 teaspoons baking powder
1/2 teaspoon baking soda
1/2 teaspoon salt
FOR THE WINE GLAZE
2 tablespoons unsalted butter, at room temperature
1/2 cup red wine, such as cabernet sauvignon
1 cup confectioners' sugar, plus more for serving
1/2 teaspoon pure vanilla extract
1.Prepare the cake: Preheat the oven to 350 degrees. Spray a 10-cup Fleur De Lis Bundt Pan with nonstick cooking spray; set aside.
2.Melt chocolate in a small bowl placed over a small saucepan of simmering water. Let cool 5 minutes. In a small bowl, combine wine and milk; set aside.
3.In the bowl of an electric mixer fitted with the paddle attachment, beat the butter and the granulated sugar on medium speed until light and fluffy. Add eggs; beat for 2 minutes. Add the cooled chocolate mixture and beat until incorporated, scraping down the sides of the bowl as necessary.
4.In a large bowl, whisk flour, gelatin, cocoa powder, baking powder, baking soda, and salt to combine. Add to mixer bowl, along with the wine mixture, and beat on low speed until combined, about 1 minute. Increase the speed to medium and beat for 2 minutes more, scraping down the sides of the bowl as necessary. Spoon batter into prepared pan.
5.Bake until a toothpick inserted into the center of the cake comes out clean, 40 to 45 minutes. Cool 15 minutes. Using a plastic knife, carefully loosen cake from the pan; invert onto a wire cooling rack. Let cool completely.
6.Prepare the glaze: Combine the butter, wine, and confectioners' sugar in a medium saucepan. Bring to a boil, stirring occasionally, over medium-high heat. Remove from heat; stir in vanilla. Set aside until ready to serve.
7.Dust cake lightly with confectioners' sugar. Slice cake and drizzle with glaze.
I highly suggest washing this cake down with a glass of your favorite wine!! Yummm!!!!