Whenever I eat a scone I think of my Aunt Deb's coffee shop back in our small, home town. There is something comforting in their simple warmth. This isn't my aunt's recipe (I could NEVER make mine taste as good as hers in a million years, even if I copied it exactly), but it tastes pretty damned good!!!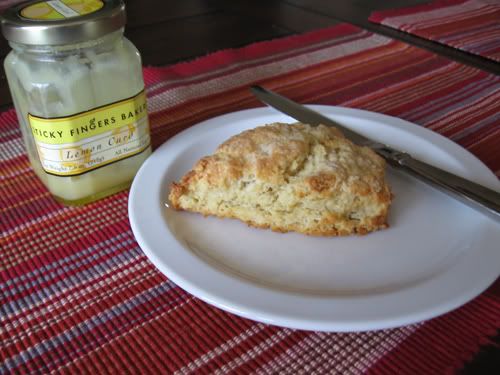 Coffeehouse Scones
2 cup all purpose flour
1/4 cup granulated sugar
1 tsp baking powder
1/2 tsp baking soda
1/4 tsp salt
1/2 cup (1 stick) unsalted butter, cold & cut into pieces
2/3 to 3/4 cup buttermilk
1 tsp vanilla
Preheat oven to 400 degrees. Line baking sheet with parchment paper. In large bowl, combine dry ingredients. Blend butter pieces into flour mixture with a pastry blender or two knives. It should look like course crumbs. Add the buttermilk and vanilla and stir until the dough comes together. Do not over mix.
Transfer the dough to a floured surface and knead gently. Form into a round loaf that is about 2 1/2 to 3 inches thick. Cut it into quarters and then cut each quarter in half. You should have 8 triangle shaped pieces. Transfer to the baking sheet and brush the tops with a little milk. You can also sprinkle them with sugar before baking. Bake for 20 minutes or until the edges are golden and a toothpick inserted into the middle comes out clean. Remove from oven and transfer to a wire rack to cool.
Ta da! Homemade scones. These taste great with a cup of hot tea or coffee and just butter on them. But I am in love with "Sticky Fingers" lemon curd too. You can get it at World Market. Yum!!!